How to Backup your AMIGA CF Card
---
If you own an AMIGA and there is a working CF-Card with a good installation in it, maybe you want to backup the whole thing just in case. Here is how you do it.
Download and install WinImage
Remove your CF card from your Amiga (carefully!)
Plug the CF into your PC's USB Card reader
DO NOT let Windoze format the CF
Open WinImage - run as administrator otherwise there is no CF-Card-Reader to choose from.
In the menu bar at the top choose 'Disk/Create Virtual hard Disk Image from Physical Drive'
Select the Disk you wish to backup from the list
Choose a place and name for your CF HDD Image File
Make a Coffee and wait whilst the progress bar makes it's way from left to right...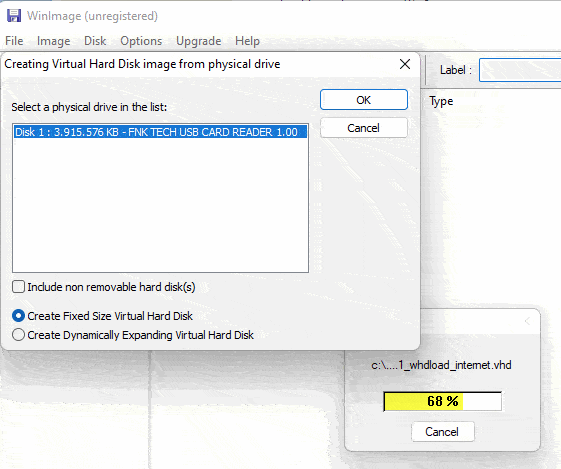 Here are the steps to restore your backup file:
Insert your blank CF card into your PC's USB Card Reader
Open WinImage
In the menu bar at the top choose 'Disk/Restore Virtual Hard Disk Image on Physical Drive'
Choose the Disk you want to restore to *Be very careful not to choose the wrong Disk as you could erase another drive by mistake!* You have been warned
Browse to your backup folder and choose the image to be restored
Now it's just a case of waiting for the image to be written to the CF Card.
This only works with identical or bigger CF-Cards, you cant restore an image from a bigger card to a smaller one.
---
[HOME]
---
---
Started with Frontpage Express and Made with nano on 02.08.2021